EdScape, short for "education landscape," is a comprehensive set of interactive visualizations and downloadable datasets on topics essential to inform and coordinate the opening and siting of programs and schools in Washington, DC. This information, compiled by the Office of the Deputy Mayor for Education (DME), will support data transparency and help build a coherent public education system. The information critical to help answer these questions falls into three pillars of information: facilities, school quality, and student demand. This new source of information was created in response to a recommendation from the 2018 Cross Sector Collaboration Task Force.
The DME has two main goals for EdScape: 1) Act as the source of information used to determine whether and where new schools, programs, or facility capacity may be needed and 2) Provide the public with the same information available to policy makers for transparency purposes. EdScape is not designed for and should not be used by parents and students to determine their school options; instead, resources like OSSE Report Cards, My School DC School Finder, DCPS School Profiles, and the DC Public Charter School Board's School Quality Reports should be used for this purpose.
Topics are organized by chapters and data are updated annually as available.
If you need additional information, please refer to the Frequency Asked Questions page on the EdScape Beta website. You can also email [email protected] and a staff member from the DME will respond to your email within two business days.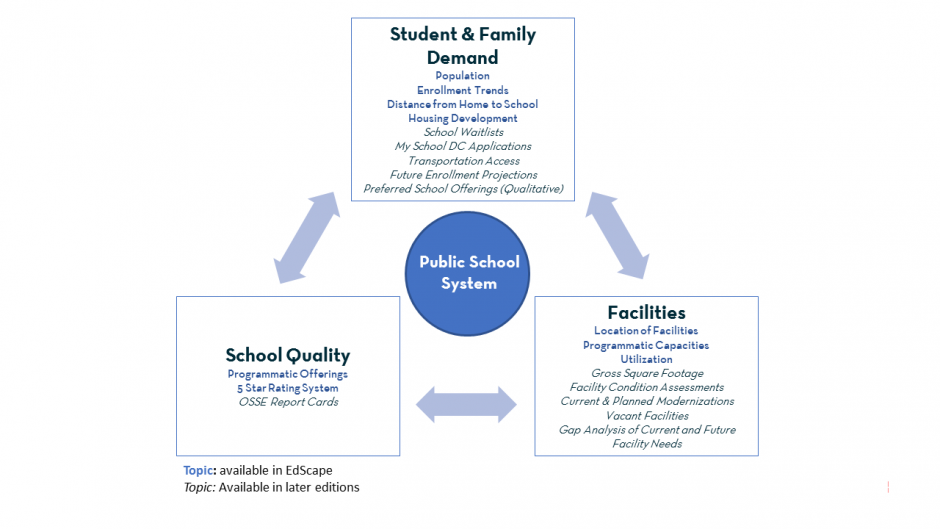 Logo attributions:
Chapter One: Population and Students logo: source: https://www.iconfinder.com/icons/336502/graph_group_success_team_icon Author: Nicola Simpson
Chapter Two: Public Schools logo: Site: <a href="https://www.freeiconspng.com/img/14043">High school icon png</a> Author: Ahkâm
Chapter Four Enrollment Patterns logo: Icon made by [https://www.flaticon.com/authors/swifticons] from www.flaticon.com